So when exactly did it become the 1920s again. If you talk to anyone in the fashion industry, they will be the first to agree that styles are cyclical. What was once trendy, will quickly become a passing phase, only to be revived years upon years later. Look at bell bottoms to boot cut jeans, or even the neon craze that occurred in the 90s just now becoming rejuvenated. So what trend am I talking about? Stealing a phrase I used in my most recent restaurant week posts:
Cue the Speak Easy.
So what exactly is a speak easy? Wikipedia describes it as:
A speakeasy was an establishment which illegally sold alcoholic beverages during the period of United States history known as Prohibition (1920–1932, longer in some states). During this time, the sale, manufacture, and transportation (bootlegging) of alcohol was illegal.
So the purpose of these speakeasys no longer is pertinent, but the idea behind is just now thriving. It isn't any different than any other themed bar, this theme, however just creates a very different environment than most people are used to. To name a few, The Violet Hour in Chicago, Bourbon & Branch in San Fran,
Varnish
in LA,
PDT
in NYC and last but not least, The Gibson in DC. These bars are quite amazing to be honest. The allure of the speak easy is that its hidden, intimate. When first created, it was to sell alcohol when it was not allowed. Now, these speakeasys take provide in providing you with an elite cocktail. You don't go to this type of place for a rum and coke, but your more traditional adult beverages, a
Manhattan
perhaps, to give you an idea of these timeless drinks. The bars will only use the top shelf liquor and provide you with mixers you either never heard of, or would never think to use.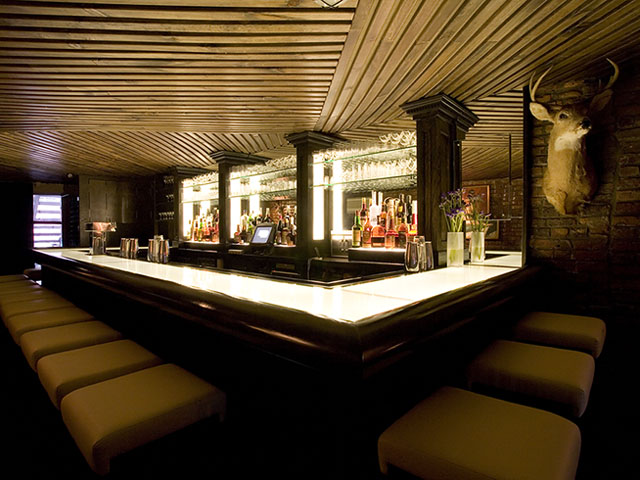 My first experience was in NYC in the East Village. PDT, Please Don't Tell. Similar to the first rule of fight club, you don't talk about please don't tell. But here I go blabbing about it to all 6 of my readers (up from last week!). You walk downstairs to enter
Crif Dogs
, and immediately upon entry, you see an old school phone booth on your left. Walking in it looks like your run of the mill hot dog joint. You have plenty of people eating in the restaurant and you see an expansive menu by the front counter where you order. Much to my surprise, the friend I was with went straight to the phone booth and picked up the phone. Wait for it...the phone doesn't work. It's actually a door bell into the private cocktail lounge on the other side. The false back opens up and you see a beautiful dimly lit bar on the inside. Reservations are not required, but are definitely encouraged as the place is quite small. This isn't a place you take a big group of friends, but really just those you would like to enjoy conversation with. We were able to procure a nice booth that fit the 5 of us and squeezed in a 6th. The cocktails were pricey, but well made. I didn't recognize any of the drinks on the menu, but I like alcohol, so let's be honest, I was okay with anything. The drinks come out slowly because the bartenders hand craft each drink with several moving parts. That being said, I now want to educate myself on more of these timeless drinks that I can ask a cultured bartender to make. The experience was amazing. The service was fantastic, and all it takes is a little patience for a table. Probably the best thing about this bar, or any of these bars, is that a seat is required. No patrons standing around the bar. PDT was not crowded in the slightest, but had a long wait. Is this elitist? Perhaps. But I see it as more of the owner wanting a certain feel and experience to his bar, and that's exactly what he got.
Much to my surprise, it turns out there are a few speakeasys in the DC area. It's funny because at the time in NYC, I commented to those who I was with, there needs to be places like this in DC. Let's be honest. There are so many areas and so many things to do in DC, its easy to not know of everything, but considering this would be on the 'cool' side of things, I'm a very 'uncool' person so its no surprise I wasn't aware these places existed. Alexandria has
PX
which is located above
Eamonn's restaurant
. DC has The Gibson. It seems that Eric Hilton owns every cool bar in DC. For those of you who are not aware, he is from the musical group Thievery Corporation. I wouldn't be surprised if many of you are saying to yourself, who in the world is
Thievery Corporation
, but you will recognize this
song
from the Garden State soundtrack that everyone has. I would recommend a lot of their other music, but getting back to the point, Eric Hilton owns all the cool bars in DC. At least in my opinion, including
18th Street Lounge
,
Marvin
and most recently the Gibson.
Located off of 14th Street on the corner of U St. is the ever popular Marvin. Right around the area you will find other popular bars such as
Cafe St. Ex
or even my friend's beloved
Bar Pilar
.
U street continues to be the up and coming area and the recent addition of The Gibson is a testament to that. Beside Marvin at 2009 14th St. is an unmarked door with a small doorbell pad to the left. The most advertisement you will find is the top button with a strip of paper with 'The Gibson' printed on it. Inside the door is a random bare hallway that goes upstairs. It looks as if its the entrance to a storage area. The first door on your left however, leads into the bar. Manned by a nice gentlemen, the door is unmarked with a simple sign that says 'Please wait for host'. Inside is a dimly lit bar that is spacious. The dark wood bar is one of the first things you see with about a dozen seats. A few booths line the side into a larger room with a few tables sprawled along the sides. If you continue to the back, a backdoor seating area is available, opening up the bar for several more patrons at a time. Unlike your traditional bar, there is no standing room here and everyone must have a seat.
The music was fantastic, the ambiance unbeatable, and the wait staff very helpful. Often times, customers order traditional drinks like I discussed above and our waiter was curious as to what types of drinks we enjoy so that he can provide some good suggestions.
My first drink was a summertime manhattan which was similar to a mint julep in that it was a manhattan with mint leaves. My second drink was a martini entitled a 'Scorched Earth' which was described to me include Laphroaig which is a very smokey scotch. I'm not a big scotch drinker (read: hates scotch) but it was pretty tasty. Would I recommend this place to anyone? Absolutely. Would I say its the cheapest place? No. But you must remember, like at any bar, you pay for not only the alcohol, but the experience and ambiance.